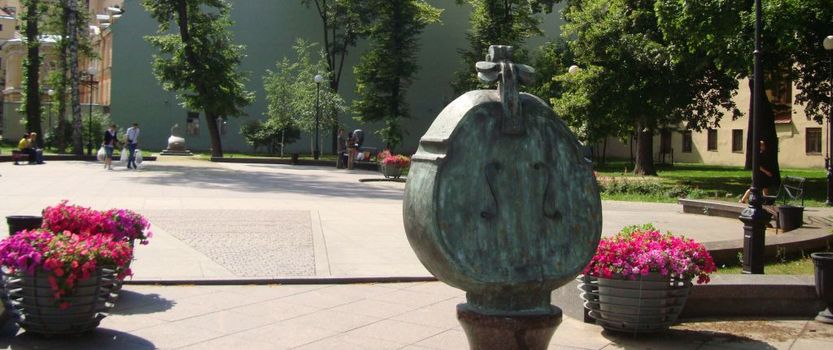 September 2 wonderful Andrey Pavlovich Petrov would have turned 85 years
In honor of the birthday of the famous composer in the square named after him, that on Kamennoostrovsky Avenue, held a special concert -. "Autumn Marathon in the park to them. Andrei Petrov ".
Andrei Petrov for his long creative life has written music for more than 80 films, including" The Amphibian Man "," Walking the Streets of Moscow "," Beware of the Car "," Railway Station for Two "," Office romance "," The poor Gusar say a word "and many others. That's not counting ballets, musicals, symphonic and vocal works …
start of the event will put "people" work – in the park will operate karaoke, and anyone will be able to perform a favorite song composer
Then guests will gala concert in! which will take part the singer, actress "Shelter comedian" and "theater of musical comedy," the composer's granddaughter -.. Manana Gogitidze
The concert will also feature musicians and choirs of the city
About Square
in 2005 Square composer Andrei Petrov was listed in the General Plan as a place intended "for development".
at the initiative of the leader of the movement "the Green wave" Michael Nowicki, musicians, writers, artists began to plant trees in the park to save it from the builders. Andrei Petrov then planted in the park rowan.
Square build up and decided not to. Andrei Petrov Rowan has now become a place where people come to honor his memory. At the initiative of the "Green Wave" in May 2006 around the "living" monument was installed a decorative fence, which is a musical text Petrova songs "Blue City".
Most of his life Andrei Petrov lived on the Petrograd side, so highly symbolic, that the square named after him. The idea to turn the park into a cultural center invited the widow Natalya Petrova Efimovna composer.
September 2, beginning at 15:00
Square them. Andrei Petrov, Kamennoostrovsky pr., 30-32