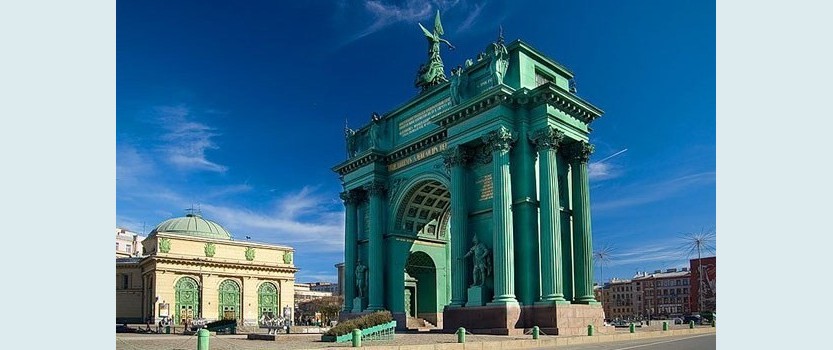 Narva Triumphal Arch was originally vypoleneny of wood in 1814 for a meeting of the Russian Guard, returning from Paris after the end of the military campaign of 1812-1814.
However, erected in 1814, designed by Giacomo Quarenghi in wood and alabaster gates soon fell into disrepair. The Governor-General of St. Petersburg veteran MA Miloradovich made on their behalf, and at the highest level, Nicholas I decided to build a new gate made of stone on the bank of the river Tarakanovka that south of the old location.
Dvendtsatyu Arch with columns surmounted by a chariot Glory to the drawn by six horses. In the attic there are eight gates winged genii of Glory and Victory, and at the bottom – four figures of Russian heroes
On each side of the gate are seen:. Have begun August 26, 1827. Opened August 17, 1834. In addition, there are signs of the places most important battles and military compounds.
See the new gate of the imperial family arrived. In honor of them was released from the bronze medal.