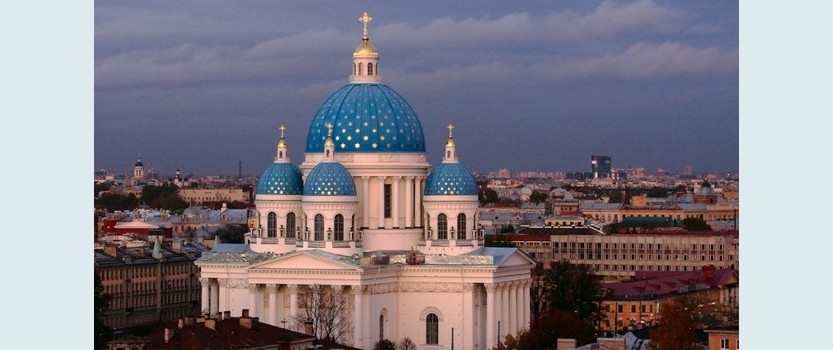 When Emperor Peter I in this place was a wooden chapel.
The first camp, the temple of the Life Guards Izmailovo Regiment was established in the summer near the mouth of the Fontanka River, in the village Kalinkina. After the transition of the regiment up the river in 1742, the temple was moved to the wooden barracks.
Worship in the church were carried out only in the summer, as the temple was cold. The church was severely damaged during the flood in 1824.
After the flood, it was decided to draft a new stone church. The model was to serve as the old wooden church.
Construction was carried out on the personal funds of Emperor Nicholas I and the money from the treasury. After 4 years, the building was ready to start on the outside and interior. Under construction had to rebuild the storm ripped the dome and rewrite some way.
May 25, 1835, Metropolitan Filaret of Moscow solemnly consecrated the church.
Cathedral was closed April 22, 1938. I assume its demolition or reconstruction in the city crematorium. The building of the church was badly damaged during World War II. In 1952-1953 and 1966-1967, it was carried out the restoration of appearance. warehouse located in the building.
Temple returned to the Russian Orthodox Church in 1990. In 2004, the recovery continued. August 25, 2006 fire happened scaffolding erected for restoration of the dome of the Cathedral, grew into a large fire. Temple vosstanovlёn completely in 2009.