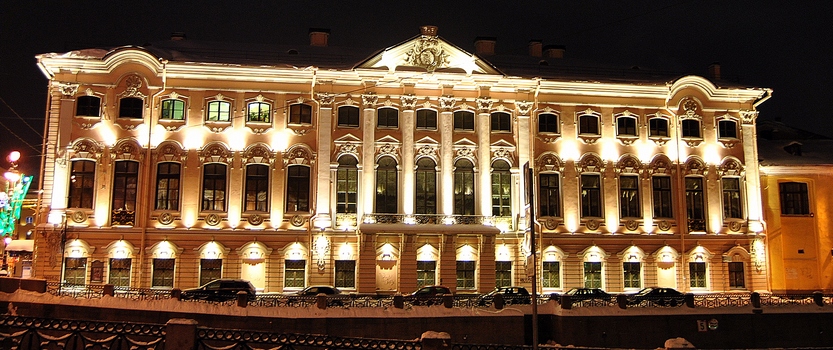 Stroganov Palace for nearly two centuries belonged to the famous Stroganovs, big industrialists, patrons and collectors.
In 1988 Stroganov Palace was handed over to the State Russian Museum, and it began work on the restoration, the palace later who had returned to its original appearance in accordance with the plan of the architect Rastrelli. Restoration is still ongoing, partly funded by the International Fund Stroganov founded in 1992 by Baroness Helene de Ludinghausen, niece of Count Stroganov.
Count Alexander owned a large collection of Western European paintings, coins and minerals for which the exhibition at the Stroganov Palace were created special interiors – Mineral cabinet, Picture gallery, Hall of Hubert Robert. To create exposure used a modern approach Collections exhibition in a private home. Exhibits not look interior decoration, and are perceived as distinctive ornaments in handy for viewing and study rooms. The Art Gallery of the palace held lessons pupils Academy of Arts visited her DG Levitsky, S. Shchukin, AI Ivanov, a young OA Kiprensky. There DI I fonvizin read comedy "Brigadier", IA Krylov – Fables their
Quoting Petersburg historian of the XIX century.. PN Petrova, "the palace was at that time the focus of the true taste." It was visited by prominent artists and poets. The atmosphere of hospitality and creativity remained in the palace, and the Count Sergey Grigoryevich (1794-1882), known prodolzhevshim complement Stroganov art gallery and became the creator of one of Russia's first collection of icons in the Stroganov Palace.