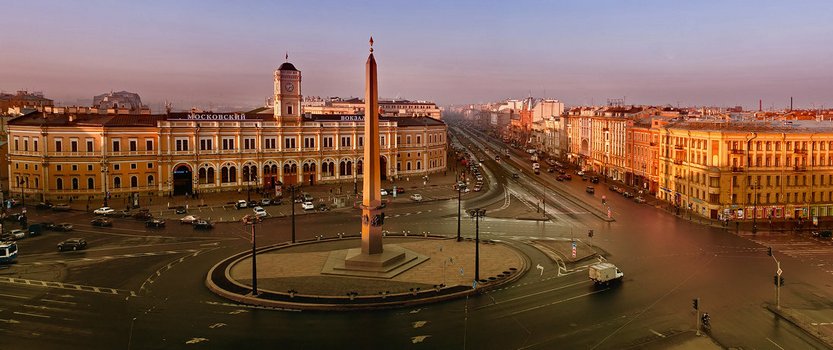 Obelisk " hero city Leningrad " set May 8, 1985. It consists of a vertical granite monolith total height of 36 meters, decorated with bronze high relief and topped"" Gold Star of the Hero.
Monument installed in the composite center of one of the largest squares of the city – the area of ​​the Rebellion and completes the basic, the front part of the Nevsky Prospect .
Along the perimeter of the square it is surrounded by buildings that are included in the history of Leningrad – St. Petersburg: Moscow railway station, the hotel " October " metro station " area of ​​the Rebellion '
whole complex of buildings creating a single ensemble, recalling. . about the dramatic history of the city during World War
at the bottom of the obelisk set oval high reliefs, which show highlights of the heroic defense of Leningrad " blockade " 'Rear – front "," Attack "," Victory ". On the decorative cartouche inscription – 'Hero City Leningrad' '
above reliefs, completing the base of the obelisk, pentahedral monolithic trunk framed bronze Wenk Glory.. The top is crowned with the construction " Golden Star "
aspiration to heaven, a monument recalls the Alexander Column – another monument erected in honor of the 1812 Patriotic War heroism of the Russian people a year.