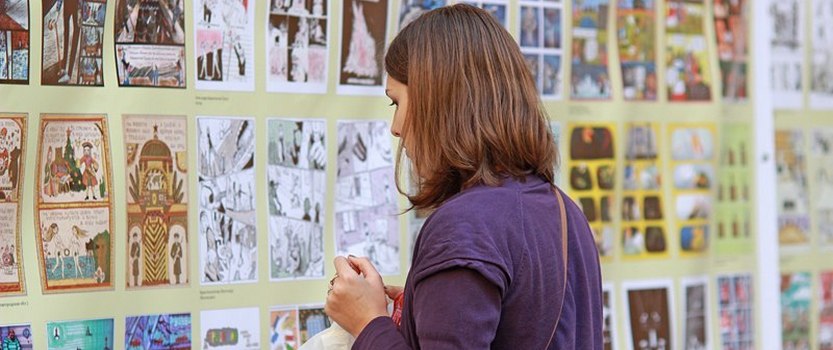 We are waiting for the whole year – and then, finally: Life on the paper: the festival of animated stories "Bumfest»
In 2015, the exhibition program of the festival will be held from 17 September to 11 October, and education from 25 to 27 September
.. The festival of animated stories "Bumfest" was first organized in 2007 in St. Petersburg, as a private initiative, soon becoming a bright international event in the world of comic book author.
at the festival there were Russian and foreign partners, the traditional site, the festival helped the Consulate, Universities, foundations, public organizations and private companies.
As part of the "Bumfesta" annual exhibitions of comics and illustrations, performances and film screenings, competitions and master classes for young authors, meetings with artists and experts, and of course, stunning Fair .
PROGRAM – 2015 (. The first 4 days the rest of the program here: http: //boomfest.ru/program/)
September 17
18.00 / Children's library of foreign literature / st. 3rd Sovetskaya, 8, entrance from the yard (m. The area of ​​the Rebellion)
Opening of the exhibition "65 Years of Snoopy and the Peanuts Comics» Charles M. Schulz (US) September 18
IBID
Presentation comic Peanuts by Charles M. Schulz (USA). Meetings are held the art director of the publishing house Zangavar Vladimir Morozov (Russia)
20.00 / Bar Brimborium / st. Mayakovsky, 22-24 (m. Mayakovskaya)
Exhibition opening Masha Bogatova (Russia)
September 19
15.00 / Library book graphics and comics / st. 7th Krasnoarmeyskaya, 30, entrance from the yard, code 150 (m Institute of Technology.)
Retrospective lecture "Comics – a story told by the image. From Petroglyphs to Superman. " Meetings are held the art director of the publishing house Zangavar Vladimir Morozov (Russia)
September 20
18.00 / Kodvoring / Kovenskiy per., 14 (m. The area of ​​the Rebellion), the second courtyard
Exhibition opening Konopatova Mary and Timothy Mokienko (Russia )